Current assessment and status: Big Handsome TB Gelding that requires experienced rider!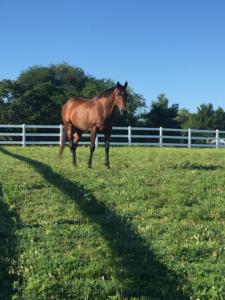 Smirk retired from racing and went on to spend the last few years teaching students all about horse care at Essex Technical High School.  Smirk stands for clipping and wrapping and loves to be doted on. Smirk lunges and long lines. During Smirk's time at school many students fell in love with him for his charming personality and lovely gaits. Unfortunately, the school does not spend enough time riding and Smirk deserves a home where he will get to work more. An experienced rider will want to provide him with a variety of jobs to prevent this smart horse from becoming ring sour! This horse is truly a special find and will be a good project for an advanced rider who can guide him to excellence. 
For more information or to visit Smirk,
Contact Vanessa: v.wilde83@gmail.com, 813-838-3082
Currently barefoot and up to date on shots, coggins, and teeth. Smirk enjoys turn out with mares or geldings.