Current assessment and status:  LOOKING FOR A TRAIL PARTNER??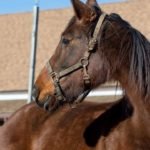 Shorty is sweet, good in hand and likes being groomed. Check out that powerful trot – she can move! She stands quietly for tacking and mounting and is said to have done competitive trail in previous home; also said to drive single and double, but we do not have the equipment to try it out. Shorty gets along with mares or geldings as she is non-dominant in the paddock.
Shorty's harness racing name (trotter) is Shorts Flame, freeze brand W3965.  
Check out the photos of Shorty at 2017 Pipestave Adventure Trail along with her buddies Prissy (dark bay) and Tris (gray).